---

Recipes...
---
February 7, 2011

Seven Vegetable Chicken Soup
Our family chicken soup didn't have too many vegetables in it. Carrots were a staple as was parsley for garnish. The other ingredients were either noodles or dumplings and small chunks of chicken. My other favorite soup is the Chinese wonton main soup, which I have never made, but it is the inspiration for my seven vegetable chicken soup.
There is a great variety of vegetables that go well with the soup some starchy and others leafy. To bring the number to seven I tend to use one or two starchy vegetables (or pasta) and five or more leafy ones.
Choice of Starchy Vegetables or Pasta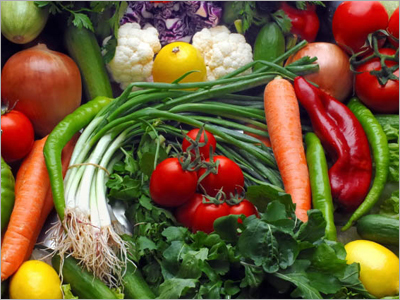 Fresh vegetables
Egg noodles - boiled
Potatoes - parboiled
Pearled barley - pre cooked
Rice - pre cooked
Rice noodles - soaked in cold water
Bean threads - soaked in cold water
Bean sprouts - raw
Chick peas or garbazo beans - pre cooked
Choice of Leafy Vegetables
Carrots - a must!
Broccoli
Brussel sprouts
Cauliflower
Cabbage
Celery
Bell peppers
Green onions or scallions
Parsley
Cilantro (coriander)
Assembling the Soup
If you don't have previously cooked chicken, mince a clove of garlic, dice enough chicken for the number of diners and stir fry it in olive oil and the minced garlic.
Pour a cup of chicken stock for each diner into a deep pan and turn the heat to medium. Cut up the chosen vegetables into bite size bits and add to the stock. Add the starchy vegetables or pasta which should have been prepared ahead of time. Add the stir fried or cold chicken and let the soup come to a boil. Reduce heat to minimum and in few minutes it is ready to serve. Sprinkle the soup with freshly minced parsely and freshly minced cilantro at the last moment. Correct the seasoning with salt and pepper.
How long you let the soup simmer depends on how soft or crunchy you want the veggies. I like them crunchy.
Denny Schlesinger
Share this article with your followers
---