---

Recipes...
---
May 22, 2010

Fusion Cuisine: Italian/Mexican/Asian Fishion
Internationally it's called "Food Fusion" or "Fusion Cuisine." Arturo Uslar Pietri used to say that "real cross-breeding happens in the kitchen." The typical Venezuelan dish is a wonderful mix of European, African and native flavors to which we have added more recently Asiatic accents. Recently I concocted a fusion dish which I'm not sure how to name. Its roots are Mexico (sautéed bell pepers and onions as used with fajitas), Asia (fish in lime, soy sauce and garlic marinade) and Italy (served on a bed of linguini). I have also tried it with white rice instead of pasta but the flavors don't come out as brilliantly.
Ingredients
Serves four.
Dorado, Mahi-Mahi or Dolphin fish as it's know in different places is both great sport and great eating. You can use dorado or a similar white fish. I have used snook (robalo) on occasion.
1 pound dorado or other white fish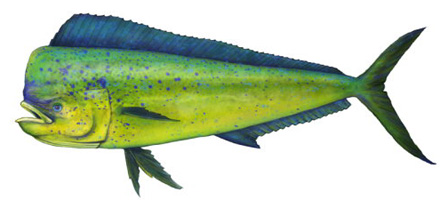 1 pound linguini or other small pasta
1 large or 2 smaller red bell peppers
2 or 3 medium sized onions
Olive oil
Marinade:
Soya sauce
2 to 3 limes
4 to 6 garlic cloves
Since you won't be serving any other vegetables, you could use larger amounts of onions and bell peppers, to taste.
Preparation
One or two days before your planned meal, marinate the fish. Clean, skin and bone the fish and cut it into serving size pieces, usually two per serving. Place in a shallow plastic container.
Mince the garlic really fine and add to the fish. Add the lime juice and soya sauce. Turn the fish until it is well coated by the marinade. Cover with a lid and place in the refrigerator.
Cooking
An hour before cooking time take the fish out of the refrigerator and let it warm to room temperature. Turn the pieces to cover them well in marinade.
Core the bell peppers and cut into thin slices about an inch long. Peel the onions and cut them lengthwise into 8 pieces each to create little shells.
Cook the pasta in salt water. At the same time, sautée the onions and peppers in olive oil (I like to use a heavy cast iron pot with a lid). After a few minutes, add the fish. You can fish out the garlic from the marinade and add it on top of the fish. Using the whole marinade makes the dish too sour for my taste. Sprinkle a bit of fresh soya sauce on each piece of fish. Cover the pot with a tight lid. Let it cook for three or four minutes without turning. By now the pasta should be ready. Timing is important because you don't want to overcook the fish or the pasta.
Serving

I like to use deep terracotta dishes (cazuelas). Serve the pasta first to serve as a bed. Place the fish on top of the pasta. Place the peppers and onions on top of the fish. If there are any juices left on the cooking pot, add a bit to each plate.
Serve. Enjoy!
Denny Schlesinger
Share this article with your followers
---