---

Recipes...
---
September 1, 2010

Fusion Cuisine: Garlic, Ginger, Béchamel Chicken
Always on the lookout for "lite" versions of tasty food, I came up with this flavorful fusion of Italian pasta with ginger and garlic flavored chicken breasts in a "lite" béchamel sauce. Although the list of ingredients is a bit long, preparation and cooking time is quite short.
Ingredients
Serves four.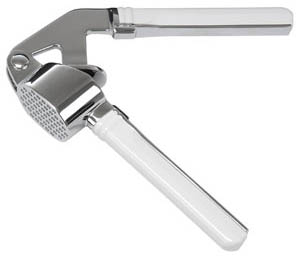 Garlic crusher
Breast of one chicken, boned and skinned, 1 pound
1 16 ounce can of green peas
Minced parsley
Corn starch, 2 heaping teaspoons
Milk, 1 cup
Virgin olive oil
Salt
1 chicken stock cube (optional)
Linguine or Fettuccine, 1/2 pound
Marinade
4 cloves of garlic, crushed
Ginger root, frozen, about 1 inch, grated
Soya sauce
Preparation
Marinade
An hour or so before cooking time, marinade the chicken. Skin and bone the chicken breasts. Cut into small cubes, half an inch or less. I prefer small, about 1/4 inch cubes. Put in a plastic container. Crush the garlic and add to chicken. Grate the frozen ginger root and add to chicken. Sprinkle one or two tablespoons of soya sauce on the chicken. Mix well, cover with a tight lid and put in refrigerator for about one hour.
Pasta
Start the pasta first, boiling in salt water. By the time it's done the chicken should be ready as well.
Chicken
Drain the can of green peas.
Add a small amount of virgin olive oil to a medium size saucepan on medium heat. When hot, add the chicken marinade. Stir until the chicken cubes are cooked on all sides. Add the minced parsley and stir until well mixed. Either crumble the chicken stock cube into the pot or add a bit of salt. Add the drained green peas. Stir.
Add 2 heaping teaspoons of corn starch to a cup of cold milk and stir until dissolved.
When the chicken is half done, add the milk and cornstarch mixture. Lower the heat to minimum. Stir to make sure the cornstarch does not stick to the bottom. When the sauce starts to boil, cut the heat, the dish is ready.
Serve
By this time the pasta should be ready. Drain the pasta. Either serve the chicken on a bed of pasta, or, as I prefer, add the drained pasta to the chicken and mix thoroughly. Then serve.
This dish is so flavorful that it goes well with a light red wine.
Enjoy!
Denny Schlesinger
Share this article with your followers
---