---

Recipes...
---
March 7, 2013

Fusion Cuisine: Chicken, Stir-fry Vegetables and Pasta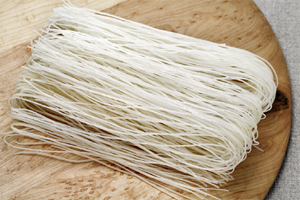 I usually have a supply of rice noodles and bean threads but they were missing this week when I felt like making a Chinese dish. I did have vermicelli. Since improvisation is the order of the day in the frugal kitchen vermicelli it was and a new fusion dish was born.
I stopped buying bean threads because I found a supplier of dried mung beans and now I grow bean sprouts on a regular basis.
Ingredients
You can use almost any kind of non-starchy vegetables. My favorites include broccoli, cabbage, cauliflower, onion, carrots, bean sprouts, bell peppers, scallions, celery. Of course you can use baby corn, bamboo shoots, snow peas, green beans, and mushrooms to make it more "Chinese." In Buddha stir-fry they use eight different veggies.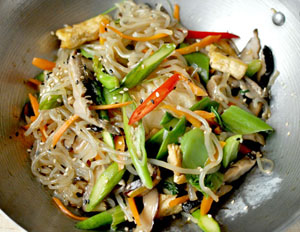 Seven vegetables from the list above
One breast of chicken, diced
One or two cloves of garlic
Two sweet peppers
100 grams vermicelli broken into one inch bits
Olive oil
Two soup-spoonfuls of soy sauce
One teaspoonful of corn starch
Half a cup of water
Salt (to cook the pasta)
Optional (be creative)

Sesame seeds
Crushed peanuts
Grated ginger root
Preparation
Break 100 grams of vermicelli into one inch lengths. Put aside. Chop fine the garlic cloves and the seeded sweet peppers. Put aside. If you like the dish a bit spicy, use some of the sweet pepper seeds. Cut the vegetables into bite size chunks. Put aside. Dice the chicken breast. Put aside. Add the soy sauce and the corn starch to the half cup of cold water. Stir until blended. Put aside.
Set salt water to boil for the vermicelli. Heat a wok or similar pan to medium high heat. Add a dash of olive oil. When hot add the chopped garlic and the sweet peppers. Brown for a minute or two and add the diced chicken breast. Add the optional sesame seeds, peanuts or ginger root. When the chicken is slightly browned add the vegetables and stir them. At the last moment, stir the soy sauce and corn starch mixture and add to the vegetables. Stir to mix well.
While frying the vegetables cook the vermicelli so that they are done just before the veggies are done. Drain the pasta and add to the vegetables. Stir once more.
Serve. Enjoy!
Denny Schlesinger
Share this article with your followers
---