---

Essays...
---
April 18, 2015

Kandi Progress Report
capt what happened with the qbex?
The short answer is "I don't know." The longer answer is more worrisome.
The critical issue of any technology is adoption. If the market does not buy it then it's a dud. A major enemy of adoption is complexity. The three known enemies of EV adoption are range anxiety, long charging times and the devaluation/depreciation of the batteries. QBEX went a long way to solving these issues but QBEX has problems of its own as the failure of A Better Place demonstrated.

Better Place battery swap in under 2 minutes.
The problem was not the mechanics of the process (a battery swap in under 2 minutes) but the financing. A private enterprise needs really deep pockets to finance the inventory of batteries, an issue that Kandi solved by associating with China's largest utility. But that also meant that Kandi was at the mercy of the utility. When, for whatever reasons, the utility decided that grid stabilization with Kandi batteries was not worth pursuing, Kandi was left high and dry on the issue, a great idea failed in the process of adoption.
Before I was made aware of Kandi I did not believe that EVs had a future. Almost a century ago there was the competition between three technologies for powering automobiles: steam, otto cycle, and batteries. What kept EVs in the running was the ease of use because they did not have to be hand cranked, a process that broke quite a few arms. The electric starting motor effectively killed EVs by making gasoline powered cars easy to use with none of the disadvantages of batteries.
Kandi's business model is what convinced me to invest in the company over four years ago. During these four years we have seen how difficult EV adoption has been despite the massive support by the Chinese government -- you can't push on a wet noodle and expect it to work. I have found the sales volumes disappointing but the Kandi story was still on track despite it being three steps forward and two steps back. People on the private Kandi board at Yahoo know my opposition to vertical garages from day one. I was practically run out of town for not saying that everything that Kandi did was the greatest. I was absolutely right in my position on vertical garages. So they negotiated flat spaces. One step back and two steps forward.
EVs have yet to make the grade. Elon Musk has taken some remarkable steps to make it happen like opening up the patent portfolio and trying to standardize batteries for easier adoption, not to mention the superchargers. The future of EVs is still an open question.
All the noise about Art and the other bulls pumping KNDI is nothing but noise as the following chart shows: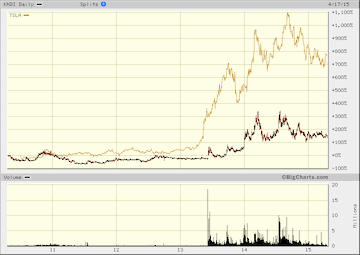 KNDI vs. TSLA 5 year comparison
Until June 2013 KNDI was just a sleepy penny stock. Hardly anyone had heard of Kandi but lots of people had heard about Tesla. The comparative chart clearly demonstrates that KNDI was pulled along by TSLA and its magnificent promoter Elon Musk. Before June 2013 it was also a great time to accumulate the stock of both companies. The frantic volatility since June 2013 has made it much harder to invest in both of them. Since January 2014 KNDI has done almost nothing while TSLA is up around 50% or more. While the game is not over by a long shot, I have found it prudent to take profits while waiting for new developments.
Recent arrivals think that car share (micro-bus) is Kandi's core business. They are mistaken. When individual car sales proved difficult (before the JV with Geely was established), Mr. Hu came up with the idea for the car share to keep adoption going. The fact that they are now making ready new models for individual sales is proof that that was the original and the ongoing business model with car share a stop-gap measure. During the four plus years I have been following Kandi I have seen many time the three steps forward and two steps back approach to keeping the Kandi Story going.
While I remain optimistic about Kandi I think it is a mistake to be rah-rah bullish, a risky approach to investing.
Denny Schlesinger
Share this article with your followers
---