---

Downloads...
---
February 16, 2013

Quick and Dirty File Download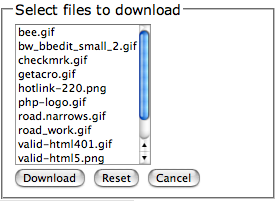 Ever felt like publishing a bunch of pictures or other files without having to resort to some complicated CMS to upload and manage them? Now you can with
Quick and Dirty File Download.
Just upload the script and the images or other files to any directory on your server and you are set to go.
Any files you don't wish to publish, just start the file name with an underscore "_". Thats's why the script file name is
_file-download.php
. It does not show up in the list of downloadable files.
When a single file is selected for download it downloads as is. If several files are selected, they are compressed in a zip archive with file name
file_archive.zip.
Denny Schlesinger
Quick and Dirty File Download
Download Quick and Dirty File Download
(79.9 KB)
Share this article with your followers
---