January 5, 2006

Viaduct Number 1 Is Falling Down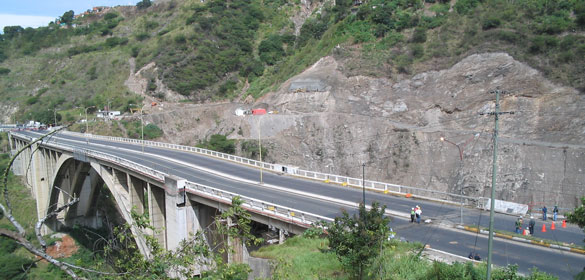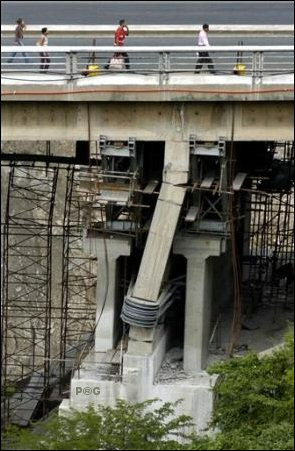 This morning, January 5, 2006, the main road between Caracas and its seaside airport was closed fearing the imminent collapse of Viaduct Number 1. The two alternate routes are two lane mountain roads with hundreds of sharp curves and not fit to connect our capital city with our main airport. A half hour trip on the now closed highway takes up to five hours on the alternates.

The "Autopista Caracas La Guaira" was built fifty years ago with two viaducts and two tunnels. At the time of its building it was state of the art. For a long time there as talk of building a second highway and several projects were proposed but none was ever started. The current problem has been in the making for at least 18 or 20 years. The mountains on either side of the bridge are moving closer together. Initially the central span was perfectly flat and in the top picture you can see the bulge that has developed from the compression of the bridge. Several remedies were tried to ease the compression and now some of the supporting columns have broken, visible in the picture on the left.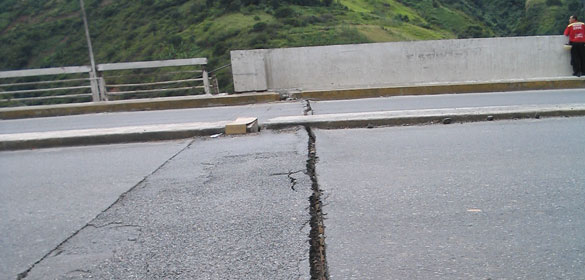 While the BoliBanana Robolutionary government of Castro puppet Hugo Chavez gives away millions of dollars to buy foreign support, our local infrastructure turns, literally, to dust.


Denny Schlesinger
Caracas - Venezuela


This illustration explains how and why the viaduct broke.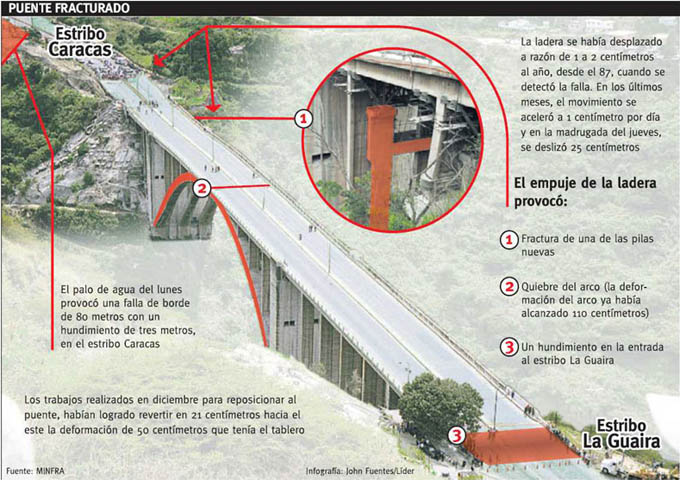 The viaduct has an East-West orientation with the Caracas end (Estribo Caracas) to the East and the airport end (Estribo La Guaira) to the West. BTW, a mapmaker would rotate the image 180 degrees Caracas being south of the airport and the sea.

The airport end of the viaduct is not moving but the Caracas end is. The movement is caused mostly by water. At the top of the mountain there is a slum with little or no sewage pipes and the mountainside is denuded of vegetation. This allows a lot of water to seep into the mountain instead of running off. The water lubricates the rocks which then slip.

Heavy rainfall on Monday caused an 80 meter (88 yard) long, 3 meter (3.3 yard) deep sinking of the Caracas roadside (upper left red area). The side of the mountain had been moving at the rate of 1 to 2 centimeters a year since 1987 when the failure was first detected. Recently the movement increased to 1 centimeter per day and on Thursday morning it moved 25 centimeters (10 inches).

The movement did the following:
It fractured one of the new supports at the Caracas end.
It broke the center of the arch which had already been deformed by 110 centimeters (43.3 inches)
Caused a sinking of the airport end
The work done during December to reposition the viaduct had reversed by 21 centimeters (8 inches) the 50 centimeter (20 inch) displacement.