May 31, 2008

Five Tips for Search Engine Success

Recently a friend asked me for some tips for his new gift card website:

Tip Number 1: The purpose of your website is to attract eyeballs: all else being equal, the more eyeballs, the more you sell. Many websites are what I call "inward looking" they concentrate on what they have to sell. A good website is "outward looking," it provides what your potential customers are looking for, not just the product, but all the other "shop talk" that goes with your product. If you are selling gift cards, talk about birthdays, baby arrivals, and all those other occasions that require gift cards. Not to discourage you, but Google has 45 MILLION pages that contain "gift card."

To overcome this hurdle, try the following:

Tip Number 2: Make the site extremely Google friendly (don't waste your time on the other search engines or on directories).

Tip Number 3: Content is king, the more pages you have, the more often you'll be found. Have lots of gift card shop talk pages.

Tip Number 4: Make sure your pages are valid HTML

Tip Number 5: Visit the iHelpYou forum to learn about search engine optimization.

By following these simple rules, with no paid advertising, I have managed to grow traffic at our marina website by 45% a year, from 30 unique visitors per day in January 2003 to 130 in May 2008. The website hosting costs the marina the same today as it did in 2003 and now they have double the bandwidth so it is actually cheaper.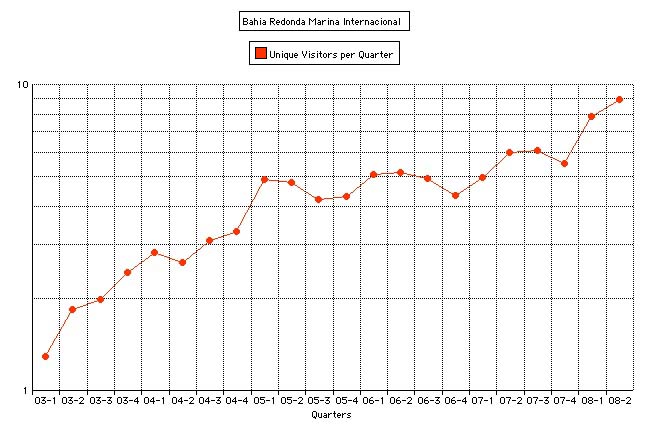 bahiaredonda.com visitors by quarter (000) - semi-log chart


The chart shows explosive growth over the last two quarters after a hiatus. That is the result of the English-Spanish translating dictionary that I added last year. It now has 1000 entries in the database which generate over 2000 unique web pages. I have to thank Doug Heil at iHelpYou for INSISTING that I make each word a unique and separate page. The results are "gratifying" to say the least.

Denny Schlesinger


Google searches for Gift Card
The W3C Markup Validation Service
iHelpYou (tell them that captainccs sent you)